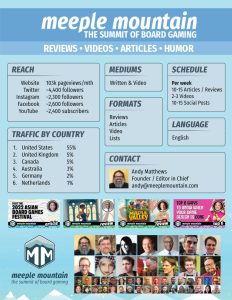 Greetings and thanks for your interest in Meeple Mountain, we're excited to be working with you. For convenience sake we've made a number of assets available for your download.
We've also made the Meeple Mountain logo and branding available in a variety of file types and formats. Please select the most appropriate image for your needs. If you need a higher res version please email info@meeplemountain.com with your request.
To download one of these files, right click on the selected option and choose File > Save As. You can also download all logos in a convenient ZIP file.
Looking for suggestions on how to create a killer board game media kit?