Our ultimate guide to board game cafes has everything you need to know about what a board game cafe is, or how to find one in your area!
Cafe list last updated: June 9, 2023
What if I told you there's a place where everybody knows your name, your favorite snacks, the type of coffee you drink, and even the board games you love? Then what if I told you that place might be in your town, or perhaps even right around the corner? I'm talking about board game cafes of course; the modern age's answer to karaoke, lame hookup joints, and sketchy dive bars.
Looking for the board game cafe list?
Photo credit: Adam Rice – Queen & Rook Game Cafe, Philadelphia, PA, USA
What's a Board Game Cafe?
Just what a board game cafe is might be up for debate, but most people would probably agree that it's a coffee shop, bar, or restaurant with an unexpected and delightful number of board games. Most board game cafes offer food and drinks of some sort; from simple pastries all the way up to full table service with burgers, sandwiches, pizza, and other tasty offerings. Some board game cafes even serve beer, wine, or mixed drinks; and of course they all serve coffee.

The defining characteristic of a board game cafe is of course the games. Some cafes might have as few as 50 or 100 popular titles mixed with beloved classics, while other cafes such as Snakes & Lattes in Canada offer massive volume, with over 1,200 board games lining the shelves of their three Toronto locations.
Board game cafes typically have a small cover charge for anyone sitting down and playing games. Some cafes will waive the cover charge if you order food and drink, while others may simply count it against your order. This helps manage the upkeep of the games, which require frequent repairs and replacements. One copy of Catan could hit the table over a dozen times a week, much higher than your typical copy at home. This also accounts for those patrons who sit and play but might not order food and drinks. If the cafe has staff that help you learn a game, the game fee helps pay for their time as well. Remember that while they're called "board game cafes" they're primarily a restaurant…so if you get good service, consider asking if they accept tips; it will certainly be appreciated.
What Can I Do at a Board Game Cafe?
Board game cafes are a wonderful place to gather a group of friends for fun times. Consider if your "table away from home". That means you can expect lots of great conversation, good food and drinks, and even some friendly competition.
Most board game cafes offer an extensive library of games which means they're perfect places to go if you want to try out that classic 90s board game, or maybe even the newest title fresh from the store. Many cafes even have staff whose job it is to teach patrons how to play games. At a visit to Snakes & Lattes in Toronto I talked to a "game guru" who admitted to being able to teach several hundred games from their shelves…amazing.
Many cafes will offer a regular schedule of events like Magic the Gathering nights, trivia nights, or other themed events meant to attract a diverse crowd of people. Of course you're almost always welcome to walk in and grab a table for whatever games your group wants to play.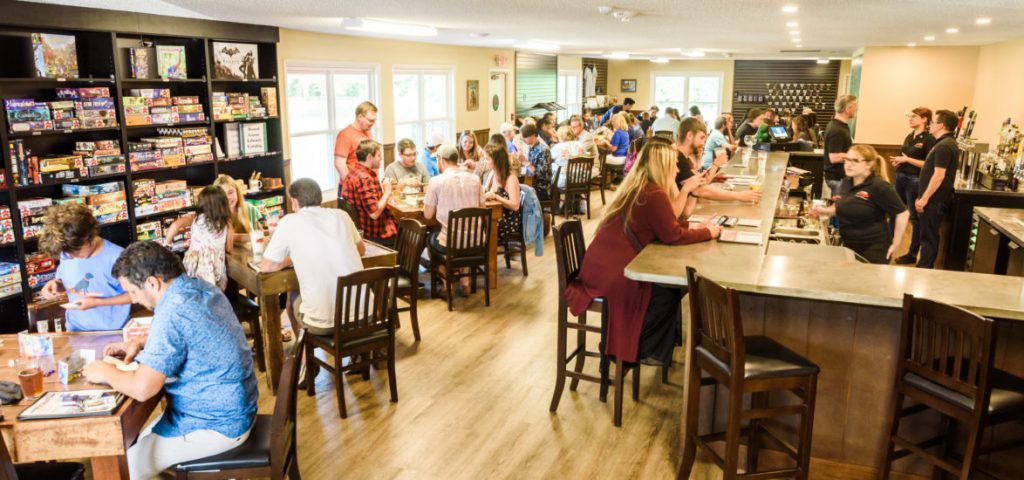 Who Are Board Game Cafes For?
While board game stores tend to cater to people already in the hobby, board game cafes fill a different space. They're a friendly, open atmosphere with smiling staff and lots of neat things to see and do. They're also a great place to attract new people to the hobby. And because they're more likely to be nestled into a community they're also great places to meet for drinks after work, or on the weekends.
Commonly Asked Questions at Board Game Cafes
While we can't answer these questions for any board game cafe, these are commonly asked questions at many cafes. Phone ahead, or check the website of any cafe for answers to these questions before visiting.
Do you sell games?
Do you have game teachers?
Can I bring in outside games?
Can I bring in outside food and drinks?
Do you take reservations?
Do you have private rooms?
How long is my table fee good for?
Do you have a come and go policy?
Do you have a waitlist?
Do you accept credit cards?
Do you serve alcohol?
Do you have to be 21 to enter?
Can I bring my kids?
Where Can I Find a Board Game Cafe?
Our extensive list of board game cafes (below) indicates there are board cafes of one stripe or another in 63 different countries, from the United States to Vietnam to Canada to Colombia and everywhere in between.
You can even visit a board game cafe when you're in another city for a board game convention.
While this list doesn't claim to be comprehensive, we'll be updating regularly. If you come across a cafe that isn't on this list, or find one that's closed down, please consider using the form below to let us know and we'll get the list updated.
Thanks to the Boardgame Cafes Facebook group for their input on this article.
Worldwide Board Game Cafe List
The following list of worldwide board game cafes is updated regularly.
Add your own cafe, or update an existing cafe.
Can't find the cafe you're looking for? Click the crosshair icon on the top right corner of the map to expand it, then search for your cafe.