Nashville Tabletop Day is a celebration of board gaming in Middle Tennessee. Nashville Tabletop Day brings together people from all over Nashville and the Southeast to game and have fun in a safe, inviting environment.Nashville Tabletop Day 2023 will take place on April 22th at Trevecca University near Downtown Nashville.
Meeple Mountain is thrilled to partner with Trevecca Nazarene University to bring Nashville Tabletop Day back for a 6th year. This year promises to be even better, with new sponsors, and many of your old favorites. Browse our game library, play to win library, or bring your favorites to share with new friends and old.
Help Support Nashville Tabletop Day!
Nashville Tabletop Day has been 100% free to attendees from day one, and we're committed to that vision. However, running an event of this magnitude takes time and money. If board gaming makes you happy, and you enjoy Nashville Tabletop Day or other events put on by Meeple Mountain, please consider making a donation to help offset the cost of running these important events.
You can also support us by purchasing one of the T-shirts we'll have available at this year's event. Anyone preordering a shirt is guaranteed to receive one. Only a limited number of additional shirts will be available at the event, so don't wait.
T-Shirts
You can also support Meeple Mountain by purchasing one of the T-shirts we'll have available at this year's event. Anyone preordering a Nashville Tabletop Day shirt is guaranteed to receive one. Only a limited number of additional shirts will be available at the event, so don't wait.
One of a kind, once they're gone, they're gone! Two color front, one color back.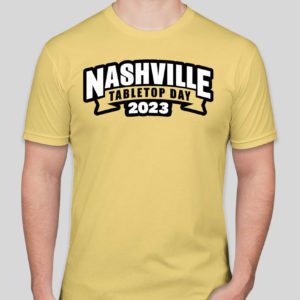 All the icons of board gaming, on one shirt. One color front, one color back.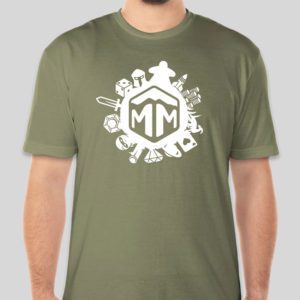 Show your Tennessee board gamer pride. Two color front, one color back.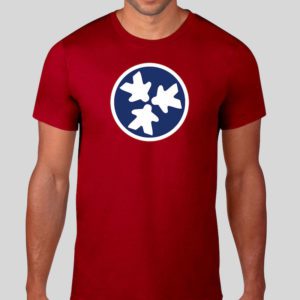 Register for Nashville Tabletop Day 2023!
Nashville Tabletop Day 2023 registration is open! Join us on April 22nd from 10am to 10pm for all the gaming your heart desires!
This year we're keeping all of the ticketing in house; so you can pick up a Nashville Tabletop Day 2023 ticket right here. If you run into any issues, send an email.
Nashville Tabletop Day tickets are sold out, and there is no waiting list. We're looking forward to seeing all your smiling faces on the 22nd!
Sponsors
Are you interested in contributing to a growing and vibrant gaming community here in Nashville? Meeple Mountain is looking for local and national businesses who would be interested in participating. Contact us at nashvilletabletopday@meeplemountain.com for more information about our remaining sponsorship availabilities. Don't wait, slots are filling up fast.
2023 Sponsors
Host Sponsor
T-Shirt Sponsors
Gold Sponsors
Silver Sponsors
Bronze Sponsors
Play to Win Sponsors
Giveaways & Play to Win!
Thanks to our numerous sponsors, Nashville Tabletop Day will have a number of door prizes that will be given away throughout the day. To reduce downtimes experienced in past years we'll be using an SMS based system to notify winners. Anyone who wishes to be eligible to win a door prize must provide a cell phone number. This number will only be used for the duration of the event and will not be retained once the event is complete.
Door prize giveaways will occur at 1pm and 5pm.
In addition to the other games available to attendees, we have a large number of Play to Win games. Each person who plays one of these games will receive one chance to win that game. Only attendees who play that game will be eligible to win that game.
Winners will be notified via SMS at 9:30pm.
Game Library
Attendees are welcome and encouraged to bring their own games to play with friends (both new and old). However Nashville Tabletop Day will also have a large selection of some of the newest and hottest games, alongside classic games. Attendees will be required to provide a drivers license when checking a game out of the library. The drivers license will be returned when the game is returned.
Volunteers
Interested in volunteering for Nashville Tabletop Day? An event of this size needs volunteers to make it successful and ours is no different. If you're interested in working with us to make this event a smash hit, please let us know! We're specifically looking for people to help us fill these roles.
Marketing / Sales
We're looking for someone with experience in local fundraising. Are you willing to reach out to local businesses to help sponsor this event? We'll be looking for sponsors for the venue and of course giveaways.
Librarians / Greeters / Day of Event
All the marketing and word of mouth will do no good if people arrive at the event and can't find games to play, or have a poor experience. We're looking for people who are willing to run games, greet people, assist people with learning games, and more.
All volunteers will receive a custom Nashville Tabletop Day t-shirt. If you're interested in helping in one of these capacities, please sign up to be a volunteer now
Privacy Policy
Meeple Mountain is the sole owner of the information we collect. We only have access to/collect information that you voluntarily give us via email or other direct contact from you. We will not sell or rent this information to anyone.
We will use your information to respond to you, regarding the reason you contacted us. We will not share your information with any third party outside of our organization.
Unless you ask us not to, we may contact you via email in the future to tell you about other events.
Harassment Policy
Meeple Mountain is dedicated to providing a harassment-free and inclusive experience for everyone, regardless of gender, sexual orientation, disability, physical appearance, body size, race, gender identity or religion. Therefore, we do not tolerate harassment of participants in any form. Please familiarize yourself with our definition of harassment, and what we expect of attendees.
Harassment includes offensive verbal comments; sexual images in public spaces; deliberate intimidation; inappropriate physical contact; and unwelcome sexual attention. Participants asked to stop any harassing behavior are expected to comply immediately.
behavior to stop immediately. If you are not comfortable doing this, you may contact a staff member who will address the concern.
If you, as an attendee, are asked to stop behaving in a way that is interpreted as harassment, you are expected to stop, immediately. Arguing about the situation or trying to convince someone that your behavior is not harassment will not get you anywhere. Just stop. If you disagree that your behavior is harassment, that is fine, but the behavior should stop anyway.
If anyone engages in harassing behavior, organizers may take any action they, in their sole discretion, deem appropriate, including warning the offender or expulsion.
Staff will be happy to provide escorts, or otherwise assist those experiencing harassment to feel safe for the duration of the conference. We value your attendance.
Read our 3 part series and find out how to make your own board game event a smash!
FAQ
COVID-19 Policy: Nashville Tabletop Day will be mask-optional event. If you've been exposed to the COVID-19 virus, please stay home.
Admission – Admission to Nashville Tabletop Day is 100% free. We will be selling shirts as an additional ticketed item. Shirts must be purchased in advance, but there may be a small number available for purchase at the event, subject to availability.
Will I need my ticket? – Printed or digital tickets must be shown at the door so that we can check attendees in and keep track of head count.
Food / Drinks – Trevecca may be selling food and drinks, there are also a number of nearby options. Attendees may bring in their own food should they choose.
Children – As with all attendees, our goal is that children and their parents have fun while respecting the enjoyment of others. Children under the age of 10 must always be accompanied by a parent or legal guardian; minors age 10-17 must have a responsible guardian present at all times.
Harassment – Don't harass the other guests. If you're being harassed by a guest, please let a staff member know immediately and we will handle it. Our full harassment policy can be found below.
Door Prizes / Giveaways – Door prizes will be given away at 1pm, and 5pm. To be eligible you must provide your mobile phone number when registering, or provide it at the door when checking in. At the appointed time we'll randomly select checked-in attendees and send them a text message to claim their prize.
Play to Win – Nashville Tabletop Day will have a library of games which are eligible for play to win. The full rules will be posted at the event, but anyone checking out a game (including the group they play it with) is eligible for one entry per checkout. Winners for each game will be pulled from all players of that game throughout the day. Winners do NOT need to be present to win, but must be able to meet in Nashville within 2 weeks of the event to claim their prize. The complete list of Play to Win titles can be found below. This list will be updated as new games are added.
Alcohol / Smoking (vaping) – Alcohol or smoking are not allowed on premises.
Sportsmanship – Don't be a jerk.
Lost Items/Theft – Nashville Tabletop Day, Meeple Mountain, and Trevecca Nazarene University are not responsible for any lost or stolen property.
Can I bring my own games? – Absolutely! Even with our extensive collection, we'll never have everything people want to play. Bring your own games to share, or put them in the "do not disturb" area and keep them set aside for your own use.
Who is running this event? – Nashville Tabletop Day is managed by Meeple Mountain, a board game news and reviews website based in Nashville.
Can I volunteer for Nashville Tabletop Day? – You sure can! Sign up to be a volunteer now.
Are you looking for sponsors for Nashville Tabletop Day? – Always. You can find information about sponsoring Nashville Tabletop Day below.
Where else can I game in Nashville? – Meeple Mountain hosts Nashville Game Night on the 3rd Wednesday of every month. A number of other groups host board gaming events as well. You can find out more information on the Meeple Mountain Nashville gaming directory page.
Where should I park? – Trevecca Nazarene University has several lots in and around Boone Center.